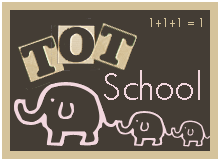 M&M is currently 35 months old.
I started doing letters this week in Tot School and I decided to start with the letter B because I had so many fun things that I had planned for B.
We started with counting
b
uttons and then sorting them by colors because M&M picked out the ice cube tray from the closet and wanted to use it.
Then we played with
b
alls by
b
ouncing them into a
b
asket. (I saw this somewhere, but I forgot where because it didn't require me putting anything together so I didn't save it. If it was you, thank you for the idea!)
Next we read
Brown Brown what do you see?
by Bill Martin Jr./Eric Carle and did some activities that I found
here
. These activities are for a lapbook, but I didn't do the whole lapbook because I have a hard enough time as it is just to get everything printed, cut out and put together for any activity. We did the coloring animals mini book, the heads and tails matching, and the size sequencing. She had a hard time with the size sequencing because she didn't understand what exactly I was trying to tell her to do so I showed her instead. I'll do some more size sequencing activities with her later to see if she can do it by herself.
Then we glued B's onto a big B. To do this I typed about 15 capital and lowercase B's into a word document, changed the fonts and colors for each of them and then printed and cut them out. I cut out a big B from construction paper and put dots of glue on it for her to place the printed out B's on. I will probably be doing this for each of the letters because glue is such a new thing for M&M and she loves to do it. Again I forgot where I got this idea from.
We also played with teddy
b
ears and sang "Teddy Bear Teddy Bear." I can't find where I found this song, but if you want the words just leave a comment. For family night we
b
owled using a little toy bowling set. We did all of these things in one day, and I had big plans for the rest of the week, but what we did get done was pretty spread out because of other things that came up.
But here are the activities that we did the rest of the week:
We made
contact paper butterflies
. This was a lot of fun and it turned out so cute. One lesson that I learned from doing this though was that I need to have all the materials for an activity already to go before we start. I'm working on doing some sort of workboxes or Tot trays that I will have all of the materials for one activity ready to go so that we can just start so that M&M doesn't have to wait for me to cut out anything or whatever.
We also made banana bread. Now I don't claim to be any sort of amazing cook or baker so we used a box and mashed up one banana to add in.
One more B activity we did was gluing
b
eans on paper to make B's.
We also did some other things that I had bought at an educational store. She tried out a Geoboard, that I saw on
here
. A Geoboard is used for math geometry things, I think, but I use it as a fine motor skill builder. She has to put the rubber bands around the little pegs. She really liked doing this and probably could have done it longer had she not kept letting go of one side of the rubber band and it would snap her other hand.
She also tried out Tangrams. Also seen
here
. A math thing as well, but she uses it for shape matching. She had a harder time with this because she's working with the same shapes, but in different sizes. I was trying to get her to do this stuff alone while I got some stuff done, but she wanted me to do it with her.
That's if for this week. We didn't even get to half of the things that I had planned for B week, but that's all right. We had fun and that's all that matters.