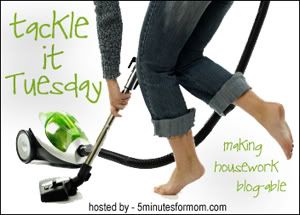 This is my very first Tackle It Tuesday post and I'm so excited because it means that I actually got something organized in my house. My pantry needed major re-organization. It is way too small for my needs so we decided to turn our coat closet into a makeshift food storage area. As I was sick a few weeks ago my hubby cleaned out the closet and set up shelves for me to put extra food on that didn't necessarily need to be in the pantry. (Maybe I should be sick more often because my husband hates to stay at home all day and get nothing done so he usually tackles some sort of project. ) :)
The before
:
I started taking things off the shelf before I took a picture so just imagine the stuff in the pictures below on that third shelf from the bottom.
What I did
: I bought some organizational containers at
The Container Store
(love that place!) to put packaged snacks in so that I wouldn't have a bunch of boxes. I also got the 3-tiered shelf there to put bottles and jars on. The most important and most effective thing that I got was the can roller shelf. I still need to get one more for the other cans. I also put my rice and pasta stuff in plastic containers. Doing this actually took up more room, but I like it a lot better still. The first two pictures are my pantry shelves, the third picture is the coat closet turned food storage and the last picture is the floor of the pantry where I bought some bins, at The Container Store where I put unopened flour and sugar bags, potatoes and onions and the third is for bags of chips because those are really annoying to store on the shelf because they take up too much room.
The after
: