So this is my 50th post. Not a real big milestone, but it has me thinking about where I want this blog to go. Most of my blog thus far has centered on Tot School, recipes and Picnic table talk. So far this has kept me pretty busy. I have had a lot of goals in mind as I look at other amazing blogs. Some of these being:
Learn how to design my own layout or have someone make it for me

Learn how to make a button or have someone make it for me

Host a meme/carnival (are those the same things? I'm still learning a lot)
Host a Giveaway
Win a giveaway
Someone will want me to review their products and get my expert motherly opinion. haha.
These are on the back burner right now though as I have more important things in mind. And I realize that some of these are out of my control. These are things that might take years to accomplish, but it's always good to have goals.
There are things that I hope to achieve in the near future. I'm trying to add more things to this blog without adding more work on myself, per se. There are things that I need to add to my life to help my days/life go more smoothly anyway. I want to incorporate these things into my blog in order to motivate myself in doing them. I've just recently added weekly menu planning to my repertoire so I am thinking about doing
Menu Plan Monday
at orgjunkie.com.
Another meme I want to join up with is
Tackle It Tuesday
.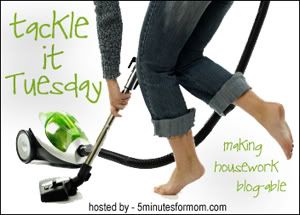 I have so many areas of my house and life that need attention and I have the organizing bug biting me. We moved into a newly built home a year ago and even though we were able to spread out from a 900 sq. ft. apartment to a 2400 sq. ft. house things don't all have their own place. I need more containers, shelves, and time to deal with it. I also need to set aside a certain time to do it. Tuesday works out great for me because at the end of the month M&M starts back up with the Mother's Day Out program. I have 5 hours to get things done. Hopefully I will use that time at home and not just out shopping like I have been doing the past few Tuesdays. I can't help myself when a new Target just opened up right down the street! hehe.
Anywho, I also want to start with
Muffin Tin Monday
.

This I will hopefully use as a tool to get M&M, and myself for that matter, to eat better lunches and to entice her to eat new things by putting them in a muffin tin!
I think it would be fun to come up with my own meme/carnival, but it seems like anything I could think of has already been done. These are my thoughts for now. I may come up with some new ones as well, but for now these will do.
One other thing that I would like to incorporate into my blog is another one of my loves....photography and photo editing. I would love to showcase some of my favorite pictures that I have taken over the years because I just have them stored up on my computer doing nothing. Mmmm.....maybe that would make a good meme....