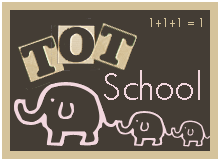 M&M is currently 42 months old

It's good to be back doing Tot School again. I took a 3 month break because I was getting overwhelmed. We also had a lot of things going on during October, November and December so I decided to just do holiday crafts and such.
Anyway to ease ourselves back into doing Tot School again we just did some winter crafts this week.
Our first craft was a snowflake made out of white paper lunch bags. When I saw this idea
here
I really liked it because it was 3D. They are
really
big though. I love making things to hang on our light fixture over our kitchen table because that's where we spend most of our time.
We made the button snowflakes that I've seen all over blogworld. The one that inspired me the most was the
Funny Days with Mommy and Maddie
blog. I don't mind doing something that many others have done especially if it's easy, fun and I already have all of the supplies for it. M&M really liked putting the buttons on in whatever order her heart desired.
I saw this really cute idea on the
Frugal Family Fun blog
. They put wax paper on their feet to "ice skate" around the house! I knew this was something we had to try. M&M did not want to do it on the carpet though. She insisted on doing it on the tile floor. She would purposefully slide and fall on her behind.
Another craft we did involved paint and tongue depressors. I originally saw this idea in the Oriental Trading Company catalog where they sell kits with all the supplies. I wasn't about to pay for a kit when I already had all of the supplies at home. To make it I taped together 6 tongue depressors, turned it over and had M&M paint it black and white. I drew a line and told her the top needed to be black and the bottom half white. She tried really hard to keep the paint on the right side of the line, but of course some carried over. It doesn't matter though because she then painted one more tongue depressor black and we glued it on over the line. We glued googly eyes on and then used a round sponge brush to paint the mouth on. I drew a carrot shape for the nose and she painted it orange. I try really hard not to do things for her when it comes to crafts because I am such a perfectionist. I resisted the urge to make her put the mouth further down and round it more.

I didn't get to all of the things I wanted to so we might do some more next week. I have a plan to continue with the letter of the week until we get through the rest of the alphabet.
Side note
: Bubba (12 months old) decided to do his own activity. He took this bag of crackers out of the box. Then took the crackers out of the bag and put them in the box. He was at this for a little bit just rearranging the crackers from the bag to the box to the floor and back again. He likes rearranging things, but his favorite thing to do right now is walk and try to keep up with M&M. Now that Bubba is able to do more stuff it has me thinking about what I can do with him Tot school-wise. I'm not there yet, but I'm just gathering some ideas. I did find this great site,
Productive Parenting.com
, with activities for each age group and there are a ton of ideas!