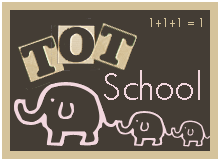 Click on this button to find out more about what Tot School is all about.
So even though I wasn't as organized as I would have liked to have been I did some activities with M&M today. We started off with doing a lentil tray idea that I found on the
Chasing Cheerios
blog. I thought that M&M would really like this and I was right. After awhile I put a towel under the tray because she was very messy and the lentils are the same color as our carpet.
M&M spent a lot of time on the computer today doing "her" letters on
Fisher-price
and
Starfall
. It amazes me that she can pretty much maneuver these sites by herself. I was tending to a sick baby most of the morning so that was very helpful.
We got a package from grandma today and it had a new book for M&M in it...Purplicious!
She already has Pinkalicious and her favorite color is purple so it seemed only fitting to have this book as well. The book talks about how pink and blue mixed together make purple so I took this opportunity to demonstrate this to M&M. I put blue and pink paint in a ziploc bag and she squished it around to mix it together. I got this idea from a blog a few months ago when I wasn't as good keeping track of which one it came from so I can't link it back.
M&M pretty much knows the alphabet in it's capital form, but we need to work on the lowercase letters. So I bought a matching/puzzle thing at our education store here for her to practice. I wanted to do this as sort of a pre-test to see what she already knew. I was surprised that she could match Q. She got frustrated with it though and only did 4 letters before she wanted to quit. I think next time I won't put out the whole alphabet at once so she won't get overwhelmed.